As I mentioned in my last post, I was given the "Fruit Stand" line by
Doodlebug Designs
to work with for the new issue over at
Paper Issues
. So far I have completed two layouts and six cards!
Today I want to share my card set with you created for the teachers and support staff at the kids' school.
I have to admit that I wanted to be able to whip these together quickly since I needed them fast.
This sticker sheet helped make that simple.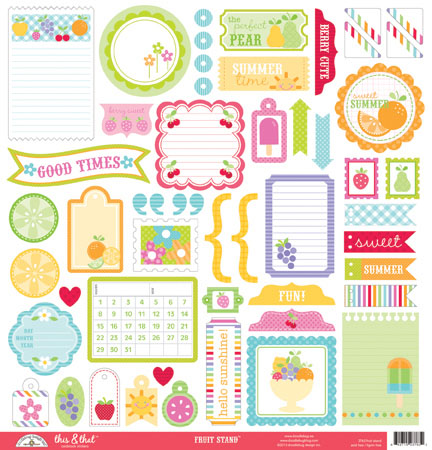 Isn't that cute?!
So using that sheet, some enamel dots, stamps, stamp ink, my trusty circle and square punches from Creative Memories and scraps of paper from the line, I made these...
and these...
It is a basic formula I follow with my cards. Like I said, I love to keep my cards simple.
There is still time to link up your projects using Doodlebug product or with a "fruity theme".
You can see all of the details
HERE.
Also, I did it!
I started Project Life this week, but just a summer vacation version. It's going to cover the weeks that the kids are off school. I think it will be a great way to keep track of all the fun things we do this summer. And I love the album we are using...
Doesn't that color just make you think of summer? :) So we are halfway through the week and I have been keeping a little journal that I write in each night. Plus, I am carrying my point and shoot camera everywhere. I plan on ordering prints every two weeks and working on the album two weeks at a time. I guess we will see how it goes.
And I finally decided to give "Bloglovin" a try for reading blogs. They asked me to paste this...
Follow my blog with Bloglovin
into a post so I can claim my own blog. So here it is. And I am in the process of finding the blogs I usually read. I think if it works out I will probably remove all the blog links from the side of my blog here eventually. Sorry, Barb. I know you read a lot of them through my blog rolls, but I am feeling a little overwhelmed by the lists sometimes :)
Thanks for stopping by today, and I hope you have a great weekend!
I will be back next week with another layout and I haven't forgotten about my Healthy Living in 2013 goals. :) So I need to do a post about that. Plus, I think I just may your scrappy opinion about some layout choices.
See you next week!